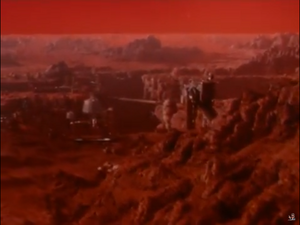 Mars in 2070 is governed by the Interplanetary Council, as it does over Earth, in Total Recall 2070.
Rekall has a top secret facility located somewhere on Mars.
Transports
Edit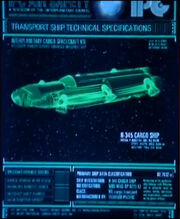 A typical Mars Minacon cargo transport carries inorganic materials such as cobalt, phosphorus, magnesium, and zinc. Rarer elements that could also be transported are Tungsten and Dysprosium (Episode 14).
Location 963
Edit
A unique stone called the "Brancusi Stone", named after 20th century sculpture Constantin Brâncuși[1] whose work the stone resembles, was discovered at a remote Mars operation—location 963. It is reputed to be the oldest artifact in the universe. Because the stone weighs nearly two tons, it is suspected of containing the element 131[2] (Episode 14).
References
Edit
↑ True facts: Constantin Brâncuși (February 19, 1876 – March 16, 1957) was a Romanian sculptor, painter and photographer who made his career in France. Considered a pioneer of modernism, one of the most influential sculptors of the 20th-century, Brâncuși is called the patriarch of modern sculpture.
↑ True facts: Element 131, is also known as Untriunium on the Period Table of Elements. It is the temporary name of a hypothetical transuranium element (superheavy) that has the temporary symbol Utu and atomic number 131. As of 2016, no attempt has been made to synthesize untriunium.