Before there was Arnold Schwarzenegger...
The first picks to play the lead role of Douglas Quaid, in Total Recall (1990), was...
Schwarzenegger
Edit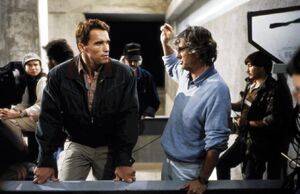 In the 1980's, Dino De Laurentiis owned the property and Schwarzenegger approached De Laurentiis to play Quaid, but got turned down. The only reason Schwarzenegger got the part is that, when Dino De Laurentiis dropped the option, Schwarzenegger convinced the studio Carolco to purchase the script with himself attached as the star. He also got unprecedented control over the production, including the option to approve the producer, director, screenplay, co-stars and promotion.[1]
References
Edit
↑ The Geek Twins, 10 AMAZING THINGS YOU DIDN'T KNOW ABOUT TOTAL RECALL, by Nigel G. Mitchell, 11/29/2013